Anda offers professional restaurants and snack houses a large number of high-quality sauces.
Restaurant Specialist
Due to our modern production systems, our natural preparations and a continuous high quality policy we belong to the leading sauce companies.
Classical or Trendy
Our large number of classical or trendy sauces gives you the opportunity to serve your plates with a finishing touch. The wide range of packagings offers you the quantity which suits your kitchen best.
Systematic Quality Policy
Throughout our range of sauces Anda offers you the optimal quality guarantee from raw material to finished product. Every step in the production is continuously controlled. Our employees follow the quality policy throughout the production process.
A "gorgeous" security in the business
Every day you can count on the best quality from Anda: the right consistence, fine balanced herbs, the right viscosity. A must in the firm, a must for your customers.
News
NEW HANNIBAL
New in our assortment... delicious Hannibal sauce! Request your sample now or order immediately: +32 472 65 42 66 or sales@andasauces.be.
13 March 2020
NEW MISTERY SAUCE
NEW in our assortment: the MISTERY sauce!
A delicious sauce with mayonnaise and crispy pieces of onion.
Request a sample now on +32
472 65 42 66 or via sales@andasauces.be.
22 October 2019
Gewijzigde 10L-verpakking
Doordat onze huidige 10L verpakking niet meer beschikbaar is bij onze leverancier, zijn wij genoodzaakt om over te schakelen op een nieuwe emmer. Het verschil met de oude verpakking zal miniem zijn, zo wordt: - de top-diameter enkele millimeters kleiner - de hoogte enkele millimeters lager De inhoud en het receptuur blijven ongewijzigd. Vanaf begin juni zal de overgangsperiode starten waarbij onze sauzen afgevuld zullen worden in de nieuwe emmers en de stock van de producten in de oude emmers opgebruikt zal worden. Het oude pompsysteem past op de nieuwe emmer, maar voor een naadloze aansluiting van de pomp op de emmer zal het inox deksel en de stijgbuis (stuk onder de pomp) vervangen moeten worden. Jullie kunnen deze onderdelen aanvragen via onze website https://www.andasauces.be/nl/aanvraag-10l-deksel-stijgbuis.


29 May 2019
Hoe nieuwe 10L emmer openen?
Onze nieuwe 10L verpakking kan op volgende manier geopend worden:



29 May 2019
New packaging 400 ml!
NEW
... in addition to our existing assortment of 28 flavors in tube 1L now:

8 tasty flavors in
tubes of 400 ml!

Click
here to discover the different kind of flavors:
https://www.andasauces.be/en/packagings/tube-400-ml/13

04 March 2019
Bring back the BBQ feeling!
New in our assortment from November 1st, 2017: SMOKEY BARBECUE sauce in squeeze bottle 1L!
This new delicious sauce leaves a pleasant BBQ feeling all year long!
The unique herbal mix and authentic smokey flavor add a delicious finishing touch to your hamburger concept, chicken products, spareribs or BBQ meat.
25 October 2017
Anda sauces safe for consumption!
The past few days there was a lot of fuss about the fipronil issue. But Anda can assure you, there were never used any eggs with excessive fipronil values in the preparation of our sauces. In addition, each lot of eggs is currently strictly controlled.


16 August 2017
New: vinaigrette 1 liter
The chive vinaigrette of ANDA is now also available in 1L packaging. The seasoned vinaigrette has a light creamy emulsified texture accented with a taste of chives. This vinaigrette is a refreshment for your mixed salads, raw vegetables and cold fish or meat dishes.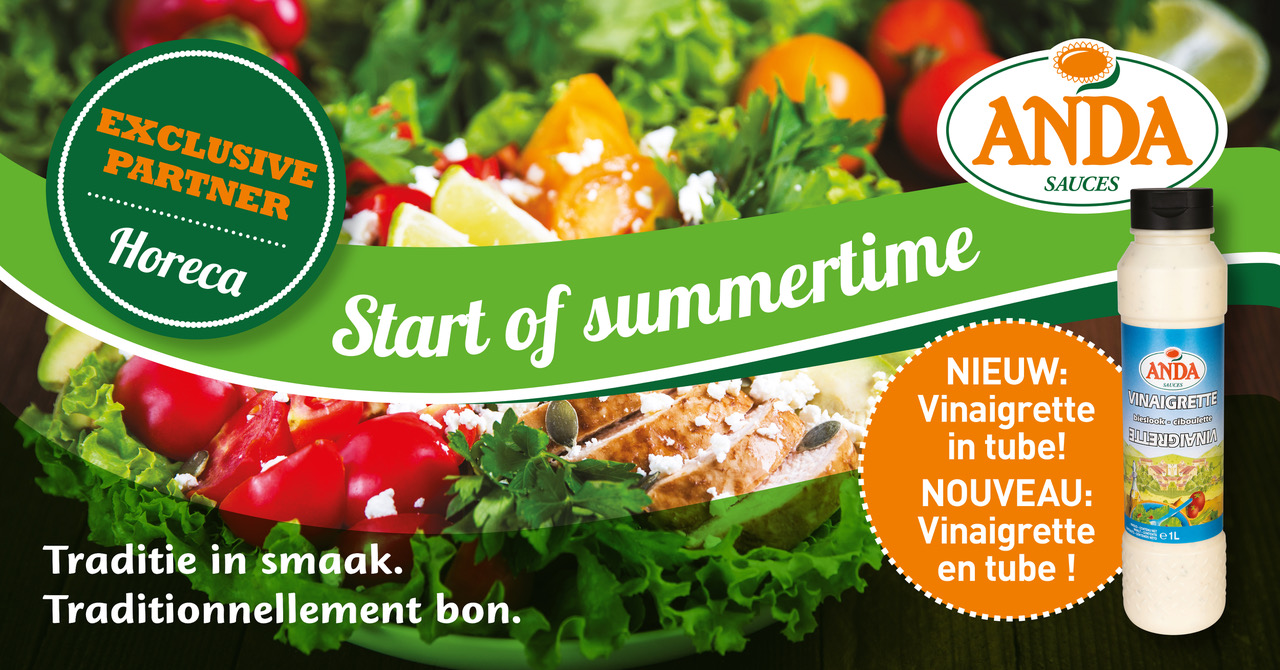 01 March 2017
Read all news